Some readers can happily ignore geography and immerse themselves in the story. Others prefer to have a map in their head, or better still a map they can refer to before them.
The digital edition of The Middle Prince has these maps near the beginning, but here they can be presented in larger scale.
The Romanian states, with a largely common language and similar ruling structures, were Transylvania, Wallachia and Moldova. Ladislav / Vlad was born in Transylvania, but his father took power in Wallachia and it is around Wallachia and its historical role that The Middle Prince is centred.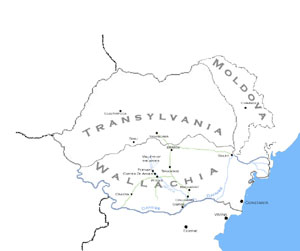 Click for larger image (separate window)
Just a note about conventions: Moldova - the state; Moldavian - from Moldova.